KeithKNOWS.net, Been There, Ate There:  The Daily Café, 100 Hurt St NE, Atlanta  shopthedaily.com  A friend and I were apartment hunting and afterwards we were starving so we stopped by "The Daily" café in Inman Park, right next to the MARTA station. We received a warm and attentive greeting, the atmosphere is casual, reminiscent of a 70's vibe café. "The Daily' serves homemade food with fresh ingredients.  We both had the  "Loaded Avocado, which is half avocado, squash chili crisp, market greens, pickled onions, chives, seeds & crunchies, mini toast (you can add egg or chicken shawarma if you like) to drink, I had Blood Orange Tea. We've been back several times and the vibe is consistent.  They also serve wraps, coffees, teas, smoothies, bowls, and more. So the next time you are in the area, check out "The Daily", you will definitely be glad you did.
KeithKNOWS.net, Been There, Ate There:  Oh My Soul, 3046 North Davidson, Charlotte, NC  ohmysoulusa.com/OMG!!!! On my stay in Charlotte for a few months, this was my go to restaurant. The staff is awesome, warm and friendly. My favorite is the plant based cheeseburger, yep! You heard me, topped with vegan cheese, grilled onions, garlic mayo, and bacon, so good. I've probably had all the food on the menu...lol... the zingalings were good too, spicy seitan marinated "wings" . I always save room for a decadent dessert, lol, layered strawberry shortcake, yumlicious!!! I also love their creative outdoor seating area to relax and chill and eat of course..lol..
KeithKNOWS, Been There, Ate There!  Divan Restaurant & Bar(The Castle),  87 15th Street, Midtown Atlanta ( 15th Street, on the hill across from Woodruff Center) 470-388-5558 divanatlanta.com/  Divinely Divan's, a friend and I were going to a show at the Alliance Theatre, we wanted to find a spot for a quick bite, we were on a time limit. We first tried the restaurants at Colony Square they were all booked, so we decided to try the castle on the hill, Divan's. You've passed by it numerous times and never went in, so I decided to do it for you. (LOL) Divan's is multilevel, 4 floors, which encompasses a private dining room, a hookah lounge, a bar, so many cozy and quaint rooms. Divan's is casual with a touch of chic, the food creatively yummy.  My guest had slow cooked lamb shank with saffron, fava beans and dill balsamic rice.  I had blackened verlasso salmon with oyster mushrooms, linguine alfredo., oh I also had cardamon tea, so good!
We passed on dessert, it was time to head on over to the Alliance Theatre.  I'm excited to revisit so I can try their desserts and explore more floors, I hope to see you there.
KeithKNOWS, Been There, Ate There!  Breakfast At Barney's, 349 Decatur St SE, Downtown Atlanta www.Breakfastatbarneys.com   I finally made it to Breakfast At Barney's and I was  so satisfied.  I had out of town guests,  so we decided to meet them for breakfast there.  We were greeted by a bubbly host and our waiter was knowledgeable, very friendly, and made great recommendations.  All 3 of us had the Emperors Breakfast which consist of eggs, bacon or sausage, beyond meat, toast, grits or potatoes, they also have "Just Egg vegan folded eggs and you can substitute fruit too, and  I can't forget the housemade jam that was so delicious, they should bottle it  and sell it. The restaurant is beautifully decorated with flair.  Now it's a very popular place, there's usually a long line, we arrived during the weekday at 9am, so the earlier the better. (LOL) I highly recommend them, who knows I might see you there. ( I hear that you must try the 24 layer red velvet champagne cake, 24 karat gold pancakes)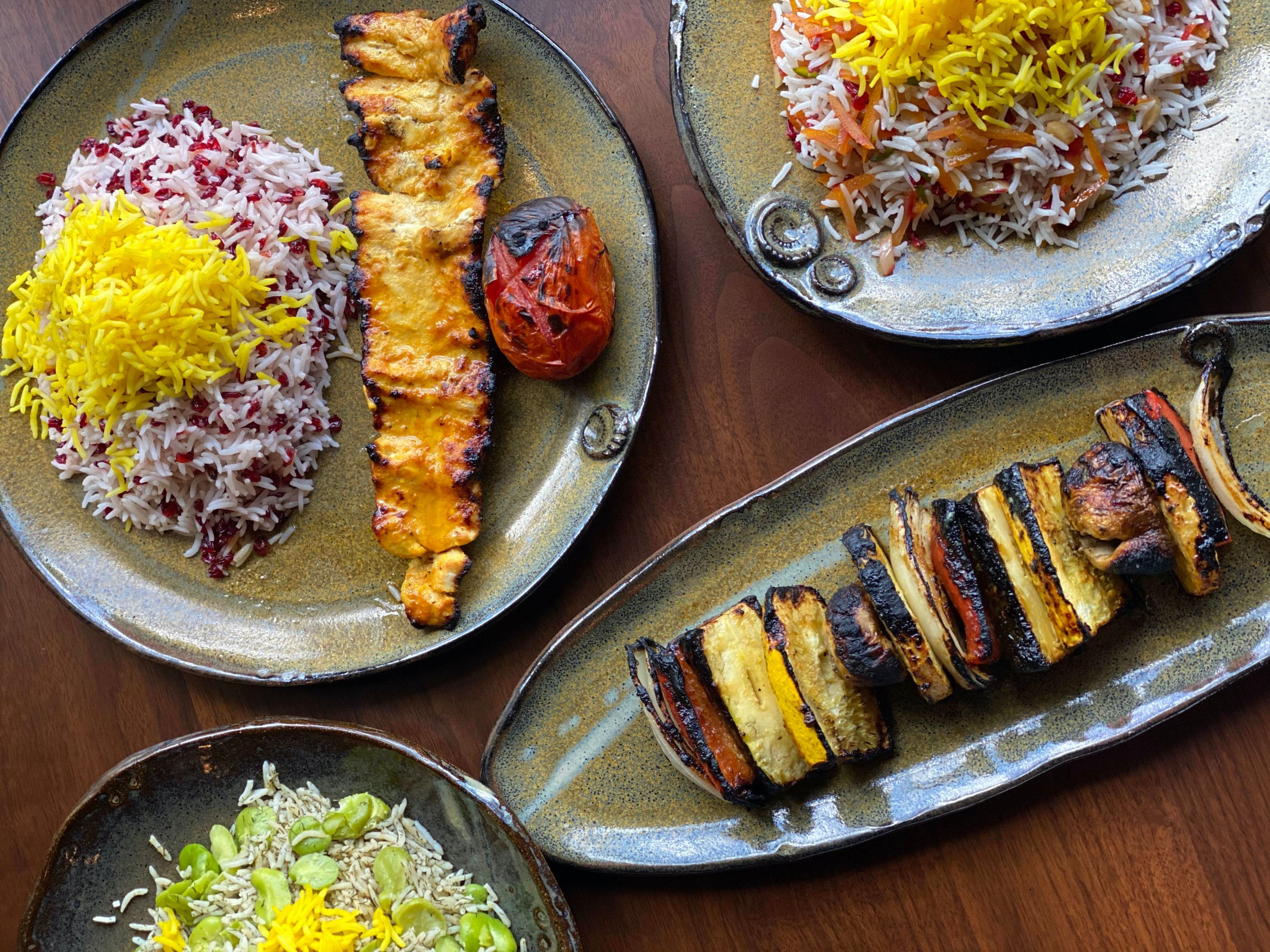 KeithKNOWS, Been There, Ate There!  Rumi's Persian Kitchen, 1175 Peachtree St, Midtown Atlanta (Colony Square) www.rumiskitchen.com
My guest and I were celebrating my move to a new apartment, so we meetup at Rumi's  Kitchen Atlanta Restaurant at Colony Square. It's a swanky new midtown restaurant offering Persian cuisine. I had the roasted Salmon with charred onions, citrus, saffron and aromatic basmati rice and my guest, Chicken Kabobs with lemon saffron brine and with rice also. For dessert, now you know I gotta have some sweetness, I chose Rumi's tart, made with pistachios, hazelnuts, pinenuts  and a shortbread crust, are you drooling yet? LOL   Simply the best!   Our drink was a non-alcoholic sparking Reisling, had no idea there was such a thing, it was good too. Rum's has several locations in Georgia, Avalon in Alpharetta and Sandy Springs.   So elevate your dining experience and checkout Rumi's, they have excellent food and great customer service. (They have a nice outdoor patio too)
KeithKNOWS, Been There, Ate There! 5Church Midtown @  Colony Square Midtown Atlanta  1197 Peachtree St, Midtown Atlanta  https://5church-atlanta.com/ 
I celebrated my friend's Birthday at 5Church Midtown, a very popular, trendy new American restaurant.  We both were starving, I had Miso Scottish Salmon with creamed coconut rice, edamame, mango grastrique(caramelized sauce) and the Birthday "King", fried Shrimp Po' Boy with shaved lettuce, tomato, pickles, creole remoulade, Italian hero, both were yumlicious!! You didn't hear me, they both were yumlicious!!!(LOL) For dessert, I had the Pineapple Mango tart with lemon sorbet, and the Birthday "King" had Tiramisu. You're gonna love the upscale but down to earth atmosphere, great customer service, oh I almost forgot, if it's your birthday you can choose one of  2  options, a free dessert or a glass of champagne.(my friend decided on champagne, of course). So the next time you are in midtown, let's gather together on their rooftop lounge, my treat! By the way, they also have a Buckhead location.  Enjoy!!!
KeithKNOWS, Been There, Ate There: El Vinedo Local Atlanta, 730 Peachtree St, Midtown Atlanta  https://www.elvinedolocalatlanta.com/
It's a beautiful sunny marvelous Monday, no humidity, not too hot yet, my friend and I decided to try a different place to eat instead of our regular midtown spot.  So we chose El Vinedo Local Atlanta, a small intimately quaint and creatively designed South America wine and tapas bar restaurant, it's just one block north of the Fox Theatre.
We both shared chicken empanadas, light, crispy, and very tasty and decided on sandwiches, he had fried fish with butter lettuce, cebolla criolla, tartar sauce and me, grilled springer mountain farm chicken with butter lettuce, Georgia tomatoes, chimichurri, no mayo for me..lol.. on a sassy sesame bun. The sandwiches came with fried yucca(similar to a potato, it's sweeter and nuttier) ,  so delicious served with  salsa rosada.(cocktail mixture of mayo and ketchup)  
In addition to empanadas, they have arepas(sandwich that's crispy on the outside, soft in the inside), ceviche, sandwiches, plates, sides, coffee, pastries, did I mention, the tea is from my favorite tea shop, "Just Add Honey", yep! and of course, they have an extensive wine list(wines from Argentina, Chile, etc.) Now they are open for breakfast, lunch and dinner, so call me, let's grab a bite, vibe,  and chill on the patio.
KeithKNOWS, Been There, Sip the Tea! Brooklyn Tea Room ATL, 329 Nelson St. (Castleberry Hill) Downtown Atlanta https://brooklyntea.com/pages/atlanta  It's a beautiful Spring morning, I'm taking my daily mental wellness art walk, I decided to stop in Brooklyn Tea  Room ATL in the Castleberry Hill neighborhood. I really like the vibe, energy and of course their tasty chai latte with oatmeal milk, talk about smoothness, oh, and I grabbed a vegan mini sweet potato pie to go. (LOL) Brooklyn Tea Room also has vegan and non vegan items such as croissants, muffins,  vegan cookies and  mini sweet potato pies by my favorite vegan company, First Batch Chef. They sell, apparel, tea boxes, teaware and more. The space is just the right size to chill and network, don't forget to take an Instagram pic of the Brooklyn Bridge wall mural. I know you are definitely gonna check it out, call me, I'll meet you there, we can chill outside! Tea-riffic!  (by the way they also have another location in Brooklyn, NY)
KeithKNOWS, Been There, Ate There often!! Healthful Essence Caribbean Vegan Vegetarian Restaurant and Food Truck, 875 York Ave SW, (West End) Atlanta  https://healthfullessence.com  They have the best sorrel drink in the ATL, yes, I said so…lol..  Whenever I'm in the West End, this is my go to place for delicious yumminess, love their un fish cakes, rice and peas of course, curry veggies..so good!, they also have really good collard greens too, now you know I gotta have dessert, I usually devour the carrot cake and from time to time I'll have the peach cobbler.  It's a small intimate space, they also do takeout and have a few outdoor tables. I would highly recommend this spot for vegans.
KeithKNOWS, Been there, shop there! Wadada's Healthy Market & Juice Bar, 878 Ralph David Abernathy Blvd  SW (West End) Atlanta https://www.wadadaatl.com/    Your one stop market for vegan friendly, all natural, plant based everything in person or online, some of  my favorites are the vegan Jamaican patties(veggies, ackee, callaloo, spinach) that crust is amazing, mini sweet potatoes pies from First Batch, Majestea sorrel tea, True Laundry detergent, there's so many great options.  Wadada's also sells loose teas, hot foods, vitamins and supplements, candles, hair care, household cleaning products, bath and body products, desserts, fruits, health and beauty products, sea moss, shea butter, herbs,  oils, lotions, wellness products, smoothies, ice cream, juices, prepared meals, paper products, fashions, jewelry and so much more. It's also an opportunity to support local and national small black businesses.  On your next visit to the West End, you gotta check them out, tell 'em KeithKNOWS sent ya!
KeithKNOWS, Been There, Ate There!  Eighty 7 Sweets Vegan Ice Cream, on Broad Street, Downtown Atlanta (56 Broad St) www.Eighty7sweets.com "If you love yourself some ice cream, like I do, who don't?Creamy, coconuty, delicious, smooth and tasty, but you are lactose intolerant, and you can't do dairy or soy, this is the place for you. They specialize in non dairy, vegan ice cream with creative flavors with catchy names: West End Wakanda(I tried that one, yummy, it's a mystery flavor and I tried the Mocha flavor reminded me of coffee), Caramel Cobb, Edgewood Oreo, Vanilla Vinings, Spelman Strawberry & Mango and many more, try it on a waffle cone, cup or their warm vegan choc. chip super bowl. The staff was great at letting me taste all the interesting flavors, well not all, a few. (LOL) I'll will definitely be back. Call me, I'll meet you there!
KeithKNOWS, Been There, Ate  & Drank There!  

"Just Add Honey"

, Old 4th Ward(East Beltline), 684 John Wesley Dobbs, Downtown Atlanta  https://justaddhoney.net/   
Just Add Honey   "Givin You the "Tea"  I celebrated my B Earth Day there and was blown away with excellent customer care, delicious fruity teas and much more.  
  Oh, Oh, Oh, did I mention their teas are au naturale, can also be purchased at their flagship store or online.
KeithKNOWS, Been There, Ate There!  Tuk Tuk 

Thai Food Loft, 

1745 Peachtree St, Atlanta 30309

tuktukatl.com

(678) 539-6181 I finally got the opportunity to tantalize my taste buds for Thai food at Tuk Tuk, my friends were in town for my birthday so we decided to check it out.  The décor and furniture will take you on a journey to Thailand without leaving Atlanta, and the food doesn't disappoint. I was not feeling too adventurous so I settled for my favorite Massaman Curry with brown rice, of course, it was flavorful, seasoned well, delicious. Now you know a brotha gotta have dessert(LOL), I had the old fashioned Thai Coconut Ice Cream, I rarely have ice cream, I enjoyed every bite. Tuk Tuk is a great spot for a date, family gathering, private event or any special occasion.
KeithKNOWS, Been There, Ate There, Flower Child, 3500 Around Lenox Drive, ste 207,  Atlanta 30326 (buckhead) https://www.iamaflowerchild.com/ 
There's a new health conscious restaurant in town, across from Lenox, in the area known as "Shops Around Lenox" their motto, "Happy Food for a Happy World".  "Flower Child" is its name, can you dig it? It's the sister restaurant to another great restaurant, "True Food" which is at Lenox Mall.  The décor is modern and colorful,  the atmosphere trendy, the food tasty, and it's very popular.
Flower Child offer healthy salads, soups, sandwiches, bowls, wraps, plates, the food is organic, local, something for everyone, vegetarian, vegans, yes, they have grass fed meats, naturally raised, no additives, non GMO, sustainable foods also.
I had the  "Mother Earth" bowl, finger lickin' good, oh, let me tell what's in the bowl, well… leafy greens, ancient grains, sweet potatoes, portabello mushrooms,, avocado…my mouth is watering already, I'm not done yet, cucumber, broccoli pesto, charred onions, red pepper, hemp seed, drizzle with a miso vinaigrette. (you can a protein, chicken, salmon, steak, tofu) oh by the way, the salad dressing are sugar and dairy free)
Spread a lil' Peace, Love,  checkout Flower Child on your next buckhead visit, you'll be glad you did.
Cinnaholic Edgewood Bakery, 1230 Caroline St NE, Ste B-110, Atlanta   30307  http://www.cinnaholic.com/   Okay the wait is over, finally made it to "Cinnaholic" vegan cinnamon bun, I meant "rolls", well, kinda sorta (LOL)  It's a quaint space in the Edgewood Shopping Center off of Moreland Avenue.  Their products are dairy & lactose, egg, and cholesterol free. The rolls are displayed elegantly, so you can see exactly what you want to devour.  I had the Chocoberry cinnamon roll, a delicious glazed topped off with chocolate bites and fresh fruit.  Cinnaholic has a variety of flavors such as Gingersnap, Oreo cookies, Strawberry Jam, Macadamia Nut, Coconut, and many more.  You can have your cinnamon roll with Octane Coffee, teas, they also serve cookies and brownies.  I'm excited to go again and try another flavor, won't you join me, on the sidewalk café, of course.   
KeithKNOWS, Been There, Ate There!  

RREAL Tacos,

  100 6th St NE, Midtown Atlanta 30308  404-458-5887

www.rrealtacos.com

  
I'm always in Midtown searching for what's new, especially food wise...LOL  I spotted "RREAL TACOS", so of course, I was curious about the food.  I ordered whole wheat tacos with adobe chicken, OMG, deliciously divine...and had a very tasty salad.  This place is real cool, great spot for gathering, family, friends, to network, a date spot, colorful and artsy. I've been back at least 4 times, LOL....next time you're in midtown check it out!
KeithKNOWS, Been There, Ate There!   Herban Fix Vegan Kitchen, 565-A Peachtree St. NE, Atlanta 30308  404-815-8787   http://herbanfix.com/  You want Pan Asian vegan food in an elegant, laidback, casual environment,  Herban Fix is the place. I feasted on the Pad Thai dish (stir fry) & my dining guest devoured the Pom Pom mushroom steak dish, both were excellent! You know I had to have dessert,  so I kept it simple,  Carrot cake,  OMG, moist, flavorful,  I wanna another slice.( Lol) Oh, I almost forgot,  we both had beetle juice (beets and ginger) I was pleasantly surprised,  it was delicious.  This is a great venue for a private event, a date, meeting, or just to enjoy good food in a fancy setting. Be sure to checkout their Sunday Brunch, I hear it's a great way to sample some of the menu items. 
KeithKNOWS, Been There, Ate There! Insomniac Cookies, 930 Spring Street, Midtown Atlanta 303039  877-6326654  www.insomniaccookies.com If sweetness is your weakness, early in the wee hours, well at least til 3am, Insomnia Cookies is the place to satisfy your sugar fix. Now, if you want ice cream, they got it, brownies a lode, sinful. .they got that too...lol Warm, Delicious, Delivered right to your dorm, I mean door, they are located near Georgia Tech campus in a new student housing complex.
KeithKNOWS, Been There, Ate There!   Lov'n it Live,  2796 East Point Street • East Point, Georgia 30344 • 404.765.9220 http://www.lovingitlive.com/  Livin' and Lovin' the Good Food Life!   It's Small Business Saturday, so my fellow YELP elite member and I join forces to support local small businesses.  We had planned to venture to Medu bookstore at Greenbriar Mall, after supporting, Shrine Bookstore and Cultural Center on the West End.  On our way to Greenbriar, we wanted some good and delicious to eat, so we stopped in East Point at "Lov'n It Live. Yes, Lov'n It Live…food prepared with tender loving care.  We both had the same appetizer, half avocado stuffed with nut meat, tomatoes, and bell peppers, presented elegantly, it was heavenly divine!  (smile) For my entree, I had the personal pan pizza scrumptious slice made with kamut bread, topped with spinach, tomato sauce, pine nut cheese, onions, chopped tomatoes, black olives, Sage crumbles and red bell peppers.  My dining guest had tacos, two crisp flaxseed-sun flower shells stuffed with sage crumbles, pine nut cheese, avocado, tomato. We both agreed our entrees were good, however, the appetizer was Da BOMB!  (LOL) Now keep in mind, all the food is fresh, organic, all natural, no additives or preservatives and prepared while you wait, so allow yourself, at least 20 minutes before the food arrives, so sip on some good ole' Sorrel(Hibiscus flower, ginger and birch xylitol as a sweetener) The restaurant is cozy, casual and  quaint, white table linen on all the tables, tasteful artwork lined the walls, and good music. If you've being meaning to try a vegan or live food restaurant, Lov'n It Love, won't disappoint.  
KeithKNOWS Been There, Eat There!  Ruscello Restaurant, Perimeter Mall (Nordstroms), 4390 Ashford Dunwoody Rd NE, Atlanta 30346  http://shop.nordstrom.com/c/nordstrom-restaurants?cm_mmc=yelp-_-ycm-_-rest-_-34760  On my recent visit to Perimeter Mall, I had lunch at Ruscello's formerly "Nordstrom Cafe".  Ruscello's is a snazzy, modern,  comfy restaurant tucked away on the 4th Floor of Nordstrom's. I was eager to try the "Salmon Nicoise Salad", which is grilled salmon,  mixed greens, capers, red onions, grilled potatoes, string beans, sliced boiled eggs, cherry tomatoes, tossed in a lemon vinaigrette. Delish!  Of course, you know I must have dessert, so I tried the apple cinnamon torta(pie) topped with vanilla bean gelato.  This is a great spot for lunch, reasonably priced, and a great value. So the next time you're at Perimeter, let's do lunch.
KeithKNOWS, been there, KNOW THAT!
Sweet Hut Bakery & Café

, 935 Peachtree St, Midtown Atlanta 30309  404-600-4822

www.sweethut.com

Hours: Sunday-Thursday 8am-12am; Friday-Saturday 8am-1am (There's another location in Doraville and coming soon to Duluth)
Sweetness Weakness! " Stressed spell backwards is DESSERTS" bet you didn't know that!(LOL) Sweet Hut is a dessert experience like no other. It's an elegant spot, with leather seats and a diverse mixture of people.  You have two options for desserts, self serve or order from the display case or both.  They also offer desserts to go, small amount of foods, plenty of drinks, hot or cold such as bubble teas, coffee, mochas, etc.  Did I mention they have free wifi, an outdoor patio, FREE 2 hours parking, close to MARTA.  It's a great spot to meet, mix and mingle, chill, stay awhile. (The café is located on the lower level of the Metropolis high rise)
"Truly Living Well, Food for Life Supreme!True Food Restaurant @ Lenox Mall, 3393 Peachtree Rd NE, Atlanta 30326 404-481-2980   http://www.truefoodkitchen.com/locations/atlanta/  KeithKNOWS, Been There, Ate There!
"I just recently return from my hometown VA(Virginia) where the deers and foxes do play(LOL)..just teasing, now that I've gotten your attention. True food opened while I was in Virginia so I was excited to check it out!  If you are looking for a restaurant with good food that's simply delicious, look no further.  Food that'll keep you fit for life! True food uses the freshest ingredients, meals fresh to order. The restaurant is eco-friendly with an open air atmosphere, quaint and comfortable.  Now let's get to the real reason I'm at True Food, the food! I was starved, so I wanted something hearty, I tried the Turkey Lasagna(spinach, ricotta cheese, organic tomatoes)  and sipped on a coconut water mixer(coco nut water, pineapple, vanilla, OJ )now that's real good food. For dessert, I had the chocolate flourless cake, you heard me, flourless cake…light, sweet, chocolatey, "Da BOMB!(LOL)  This is a great restaurant for vegans, vegetarians, gluten free diets, there's something for everyone. The prices are reasonable and the menu's diverse with items such as, natural refreshments, entrees, salads, sandwiches, starters, wine, cocktails and beers. I'm excited to visit True Food again, if you go before I do, let me know what you think or call me, let's meet for dinner"
KeithKNOWS, been there, Ate There!   Panbury's Double Crust Pies, (inside the Sweet Auburn Curb Market) 209 Edgewood Avenue, Downtown Atlanta  30303 404-500-1279   http://www.panburys.com   New at the Sweet Auburn Curb Market, single serve hand pies,  just opened over a week ago. "Pie Power"  While elevating Small Business by having a scavenger hunt at the curb market, I discovered Panbury's Double Crust Pies. I was greeted with such warmth and friendliness, I knew I had to try a pie, well, I ate 2 apple pies and bought 2 additional pies to take home.(LOL)  What I  really like about Panbury's, their pies are homemade fresh from the oven. While I tried the fruit pies, some of the guests from the scavenger hunt were more adventuresome, some tried the roasted lamb pie, spinach and feta, and green thai chicken curry.  The menu consists of variety of pies, beef, chicken, veggies, and sweets.  Panbury's also has small bites, sides and extras such as a kale salad, potato salad, beverages and more. Lunch anyone? Let's go to the curb market, I'll treat!
Revolution Doughnuts, 908 West College Avenue, Decatur & Inman Park   678-927-9920   www.revolutiondoughnuts.com KeithKNOWS, been there, KNOW that!   For Real "Dough"!   Have you ever dreamed of doughnuts that were gluten free, all natural, made from scratch, and definitely delicious. (  vegan and vegetarian optional).  Well, wake up the dream is over,  Revolution doughnuts to the rescue.   You must try my favorites, orange pistachio and dark chocolate, yummy for my tummy!(smile)  Now I must warn you, these doughnuts are a hot commodity, people drive across Atlanta just to get them.   I see your eyes are glazed over with excitement, now when you go, avoid Mondays, they are closed.  So spread the word, healthy doughnuts dominate the ATL.(smile) Don't forget Revolution also has organic coffee and an expresso bar.